Techstars Toronto 2022 T5 Cohort, Nigerian Startups Reps Africa with all Six Selected Startups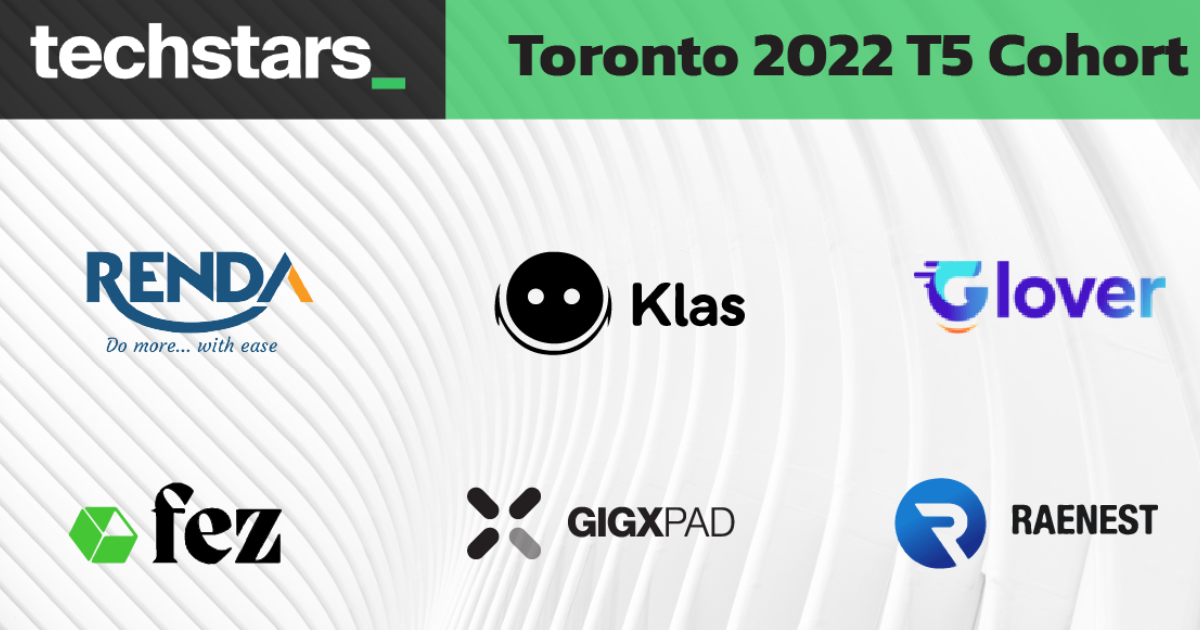 Techstars, a global investment and innovation platform and one of the world's largest pre-seed investors with a diverse portfolio ranging from HealthTech and FinTech to Web3 and CleanTech; from Miami and Silicon Valley to Lagos and London, has announced the selection of six Nigerian tech startups to participate in its Techstars Toronto 2022 T5 cohort.
According to the global accelerator's directory, Nigerian tech startups dominated the list, which included 12 startups from the United States, Canada, and France, with 6 startups. The startups are Fez Delivery, Renda, GIGXPAD, Raenest, Glover Technologies, and Klas.
Also, Nigerian tech startups not only dominated the list; it is also the only African country represented in this cohort. Three of the twelve selected startups are from the United States, while Canada can only boast of two, and one from France.
Furthermore, Techstars has backed over 50 African startups, mostly in fintech, logistics, agritech,  as well as health tech, through its various accelerators since its first African investment in 2015. According to available data, African startups are accepted into Techstars Toronto and New York, in addition to the Techstars Barclays Accelerator (which was held in Cape Town).
Techstars also plans to increase its annual investment in African startups to 24. It has invested in ten projects this year and a total of thirteen since 2018. The program runs in batches for three months.
The Firm's Accelerator Program 2021 batch has 8 African startups
Techstars accelerator program 2021 batch has the likes of OurPass, a Nigerian startup that offers payment and checkout services; Rent Small Small, a Nigerian pay-as-you-stay property rental platform; and Payday, a platform designed to provide Africans with fast payments. As well as Healthtracka, a Nigerian health-tech startup; Lenco, a fintech platform that provides banking services to African businesses; Duhqa, a Kenyan logistics platform; Kyshi, a platform that facilitates cross-border transfers from Europe to Africa; and Fleri, a direct-remittance platform, among others.
The firm also recently launched the ARM Labs Lagos Techstars Accelerator Program  in collaboration with ARM Labs, a Lagos-based innovation program focusing on fintech startups, aiming to invest in early-stage African fintech and proptech companies.
The Lagos program will however run for three years, featuring three batches—each will have a minimum of 12 startups, that's at least 36 startups by the end of the duration.
The Selected African Startups for the Techstars Toronto 2022 T5 cohort
The Nigerian startups selected for the Techstars Toronto 2022 T5 cohort cut across the logistics, finance, e-commerce, and education sectors.
Founded by Bethany Buer, Oluwafemi Jose, and Seun Alley, Fez Delivery offers core end-to-end support to individuals and businesses for their last-mile deliveries across Nigeria and other parts of West Africa and East Africa.
The company provides a logistics infrastructure that enables and empowers e-commerce businesses to process a large volume of orders across Africa. Renda was founded by Abimbola Onaboye and Opeoluwa Onaboye.
The Nigerian startup is a full-service digital asset and cross-border payment platform that focuses on simplifying the process of saving, investing, and spending digital assets. GIGXPAD was founded by Chukwudi Anyanwuocha, Godswill Omozusi, and Osamede Arhunmwunde.
Founded by Richard Oyome, Sodruldeen Mustapha, and Victor Alade, Raenest is a recruiting and payroll platform that enables African startups to integrate remote contractors and workers.
Founded in 2021 by Damilola Layode and Fejiro Agbodje, Glover Technologies is a gift card and digital assets marketplace. The company was introduced by Patricia Technologies as a means to oversee the non-crypto services of the business.
Launched in 2021, "Klas is a platform that allows anyone to start an online school and deliver live lessons.  It secured $130,000 in an angel round in March this year.