Unyte Africa Partners AXA Mansard to Provide Innovative Insurance Services to Africans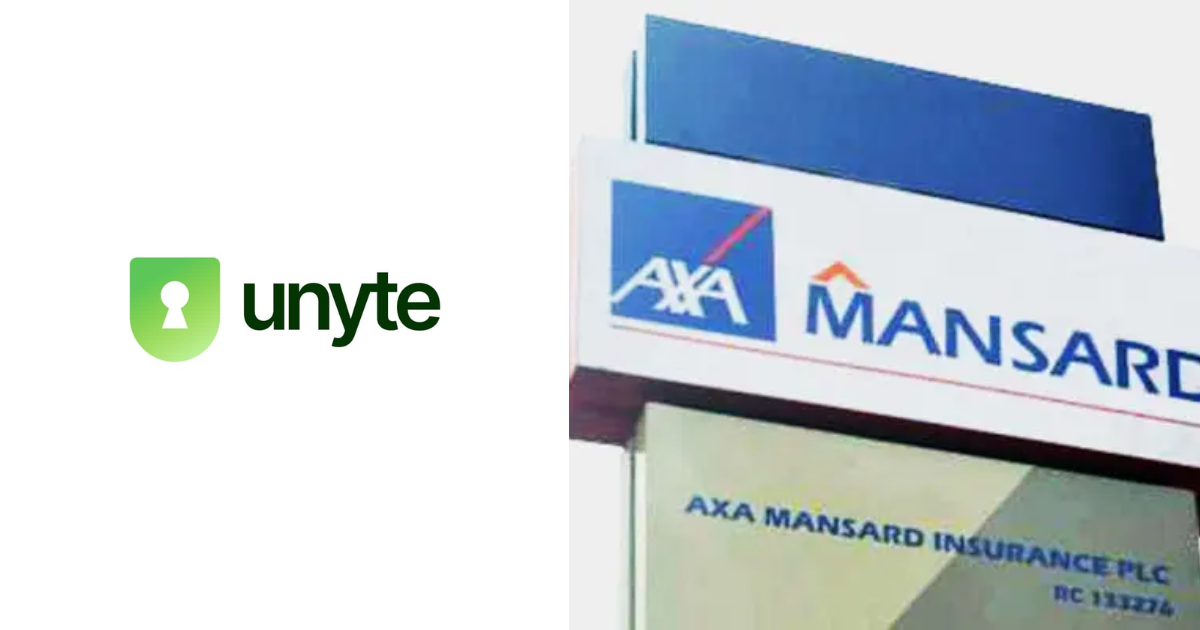 The insurance industry is still at various developing stages in many countries across Africa. According to data from Statista, the industry represents less than three per cent of insured catastrophe losses worldwide. Regardless, it is home to almost 18 per cent of the global population.  Despite the low levels of insurance uptake, there continues to be increased interest and focus from major international brokers, insurers, and reinsurers. In 2020, the value of insurance premiums in Sub-Saharan Africa amounted to just over $50 billion.
Meanwhile,  the recent partnership between Unyte Africa, a leading insurtech startup, and AXA Mansard, a member of the AXA Group, marks a significant milestone in the insurance industry on the African continent. This collaboration aims to revolutionise the sector by leveraging innovative technology and providing affordable insurance solutions to millions of Africans.
Unyte Africa and AXA Partnership Will Revolutionise the Insurance Subsector
One of the goals of the partnership is to connect millions of Africans to insurance services and various other sectors through Application Programming Interfaces (APIs). This integration will facilitate seamless access to insurance products and services, making them more accessible to individuals, businesses, and communities across the continent. By leveraging Unyte Africa's plug-and-play system, which is designed to be a game-changer in the InsurTech industry, AXA Mansard will be able to extend its reach to a wider customer base.
The partnership equally represents a commitment to providing innovative and affordable insurance solutions to customers in Africa. Unyte Africa can harness technology and data analytics to offer tailored insurance products that meet the unique needs of African consumers. This approach ensures that insurance becomes more personalised, flexible, and cost-effective, enhancing its relevance and appeal to a broader population.
AXA Mansard will also gain access to Unyte Africa's expertise in leveraging technology to streamline insurance processes and enhance customer experience. This collaboration allows AXA Mansard to harness the power of digital platforms, enabling them to offer innovative insurance solutions. This solution that caters to the evolving demands of African customers. By leveraging Unyte Africa's plug-and-play system, AXA Mansard can deliver insurance products in a more efficient and customer-centric manner.
Furthermore, beyond insurance, the Unyte Africa and AXA Mansard partnership aims to facilitate access to a range of essential services. Customers will have access to sectors such as banking, logistics and travel, education, and more via the integration of APIs. This holistic approach to service provision addresses the interconnected nature of people's needs, allowing them to access multiple services conveniently. For instance, a customer purchasing insurance can also access banking services seamlessly through the integrated platform.
In addition, the partnership  has broader implications for Africa's economic growth. Insurance plays a vital role in mitigating risks and providing financial security, which is essential for businesses and individuals to thrive. By expanding access to affordable insurance solutions, the partnership enables entrepreneurs and small businesses to manage their risks effectively, fostering a conducive environment for growth and innovation.
Moreover, the integration of APIs across sectors has the potential to drive efficiency and productivity. Businesses can leverage the integrated platform to streamline operations, manage logistics, and optimise processes. This streamlined approach not only enhances the overall business ecosystem but also contributes to the growth and development of the African economy.