Yellow Card Partners Tether to Drive Stablecoin Education, Adoption Among African Youth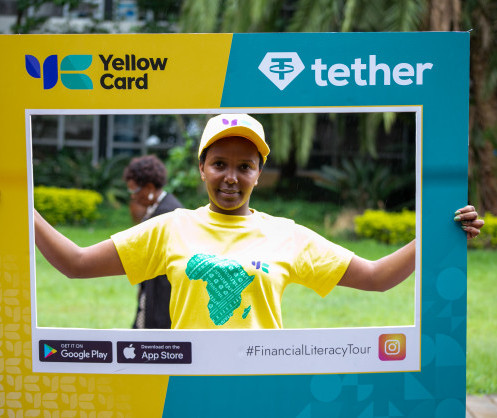 Yellow Card and Tether, two prominent players in the cryptocurrency industry, have announced the successful completion of Phase 1 of their partnership in three key African markets. Over a period of two months, the partnership focused on raising awareness, providing education, and driving the adoption of USD₮, Tether's stablecoin, among students and young professionals in Nigeria, Kenya, and Ghana.
One of the primary activities undertaken during this period was the Financial Literacy Tours in universities. Yellow Card and Tether organised events to educate students about stablecoins and blockchain technology. Also, six universities, including the University of Nairobi in Kenya, the University of Benin in Nigeria, and the Kwame Nkrumah University of Science and Technology in Ghana, hosted these informative sessions. Over 10,000 young people were reached through these initiatives, gaining valuable insights into stablecoins and blockchain technology while also learning about responsible financial decision-making. As a bonus, each attendee received their first USD₮ on the Yellow Card platform.
Peter Mureu, the Director of Marketing at Yellow Card, expressed his satisfaction with the partnership, emphasising the transformative impact of financial education on the youth. He highlighted the alignment between this partnership and Yellow Card's overarching mission of promoting financial freedom for all, which includes other initiatives such as the Financial Literacy Tour and the YC Academy. Mureu acknowledged the growing adoption of cryptocurrencies in Africa and the need for increased financial education to support this trend.
More on Yellow Card and Tether Partnership
The surge in cryptocurrency adoption in Africa, a staggering 1200% between 2021 and 2022, has created a pressing demand for education in the field. Despite the potential for cryptocurrencies to revolutionise financial systems, many companies and individuals still hesitate to embrace this emerging currency due to a lack of awareness and understanding. The Yellow Card and Tether collaboration aim at bridging this knowledge gap and play a crucial role in promoting cryptocurrency literacy in Africa.
Furthermore, Stablecoins, particularly USD₮, offer practical solutions to unique challenges in Africa. Considering the significant remittances that African countries receive from diaspora populations working abroad, Tether's stablecoin provides a convenient and cost-effective method for cross-border payments, reducing reliance on traditional channels with high fees and delays. Furthermore, USD₮ empowers gig economy workers by enabling them to receive fast and secure payments across borders instantly, bypassing intermediaries like banks or payment processors.
Paolo Ardoino, the Chief Technology Officer of Tether, recognised Africa as a pivotal player in the cryptocurrency and stablecoin market. He equally acknowledged the continent's remarkable potential for growth and innovation in the digital currency space. The CTO emphasised the increasing adoption of cryptocurrencies in Africa and the demand for stablecoins as indications of the need for accessible and efficient financial solutions. Tether remains committed to addressing the unique challenges faced by African communities through its partnership with Yellow Card, providing practical solutions for cross-border payments and empowering individuals, including gig economy workers, with fast and secure transactions that bypass traditional intermediaries.