5 African startups each secure $5k grant funding from Seedstars and SAIS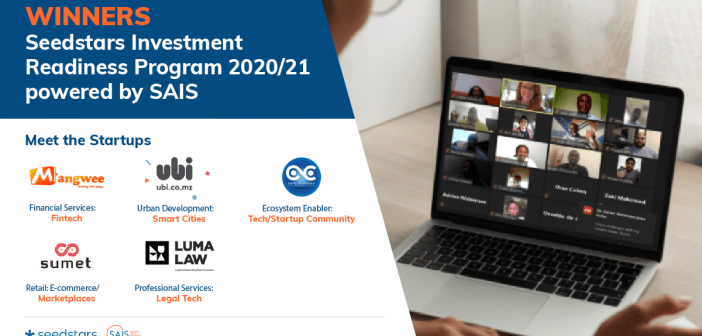 Five African startups have been selected to receive an award of US$5,000 each in grant funding from the Southern Africa Innovation Support program and Seedstars after completing the Investment Readiness Program (IRP).
The Investment Readiness Program 2019-2020 run by the Southern Africa Innovation Support and Swiss-based Tech Company, Seedstars, selected 15 startups with SDG-focused tech solutions and provided them with tools and knowledge that will help them improve on their startup ideas and bring their solutions closer to being investment-ready.
Thereafter, there was an Investor Roadshow, where the participating startups had the opportunity to present their companies and meet with investors. Five startups were then selected to receive the US$5,000 grant, sponsored by SAIS.
The five startup grant recipients were Zambian fintech startup Mangwee, Tanzanian FMCG distribution platform SUMET, Mozambican city planner app UBI, South African legal information service Luma Law, and the DRC-based Astech-Congo, which allows users to stay connected to their school or university.
Commenting on the program, Alexandre Coelho, CEO of VOID and founder of UBI said, "I would recommend the IRP because it was really insightful and the one-on-one sessions with a mentor are priceless."
In the same vein, the Chief Executive Officer of Mangwee said, "This is the best program for startups that are at a growth stage and ready to scale. The whole program was instrumental to our business growth. Once again, we would like to thank Seedstars and SAIS IRP for this grant and the mentorship and support rendered to our team during the program. It will help us to fine-tune features on our Students Records Management System."
The program aims to help boost the amount of funding received by early-stage startups in the Southern African Development Community (SADC) and improve the quality of entrepreneurs in the region to shorten the time investors and founders go through the fundraising process.
The program is focused on 10 countries, namely Botswana, Namibia, South Africa, Tanzania, Zambia, Angola, the Democratic Republic of Congo (DRC), Malawi, Mauritius, and Mozambique.
Zeepay Ghana Acquires Zambian Mobile Money Operator Mangwee