Flutterwave: How Much Value Since Becoming the Most Valuable Startup in Africa Since Q1 '22?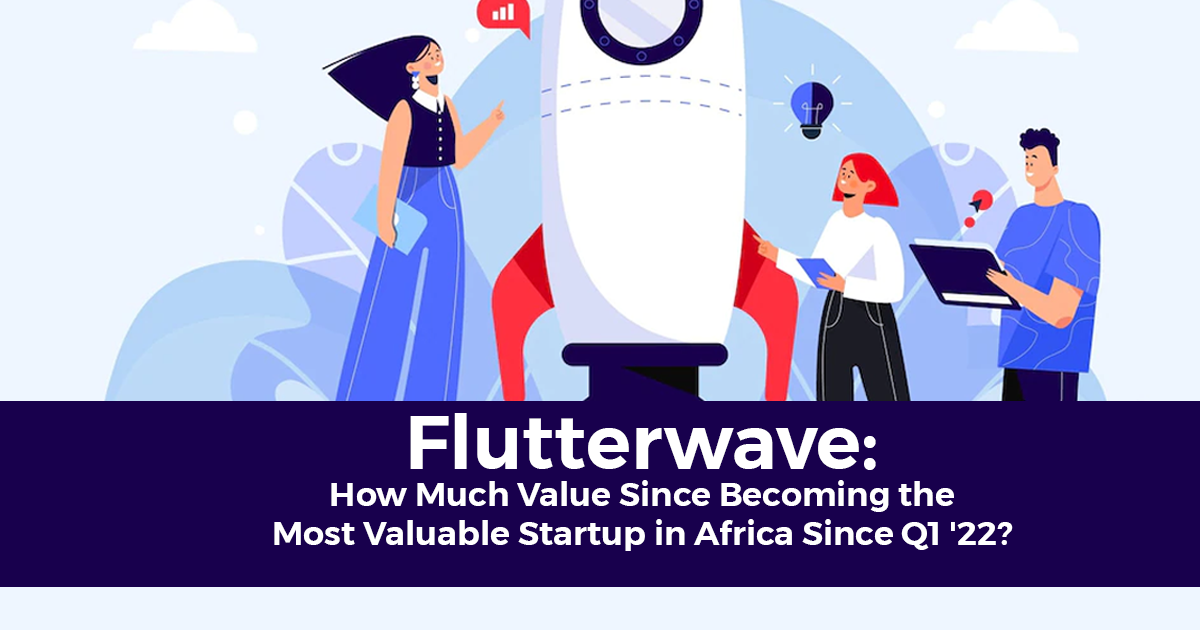 The Pan-African fintech giant Flutterwave had a mixed year in 2022, beginning with an enthusiastic announcement of $250 million in series D fundraising in early February 2022. In a Tweet, the firm stated, "We're entering 2022 with some bold objectives, and we're doing all we can to make them a reality. We're pleased to inform you that our Series D fundraising has finally concluded."
The $250 million series D round, which increased the fintech company's valuation to more than $3 billion in only 12 months, was headed by investor B Capital Group, with Alta Park Capital, Whale Rock Capital, and Lux Capital also participating. Existing investors including Avenir Growth, Tiger Global, Glynn Capital, Green Visor, and Salesforce Ventures increased their stake.
Flutterwave, which enables small to large enterprises in Africa to conduct cross-border payments using a single API, also assists firms outside of Africa in expanding their operations on the continent. Booking.com, Flywire, Jumia, and Uber are among its foreign clientele.
The number of firms using its platform has also grown from 290,000 in 2021 to over 900,000 in 2022. These companies accept payments in over 150 currencies and through a variety of payment methods, including local and international cards, mobile wallets, bank transfers, and its consumer product Barter.
However, as the saying goes, great treasures bring great tribulation, and 2022 was equally a difficult year for the now-highest valued African startup, having surpassed the $2 billion valuation set by OPay and Chipper Cash in 2021, as the company was always in the news for the wrong reasons, from criticisms both at home and abroad to accusations of insider trading by ex-employees who accused the founder, Gbenga Agboola of impropriety, as well as his loggerhead with the Kenyan government.
Flutterwave after Attaining the Most Valuable Startup in Africa
The San Francisco-based and Lagos-based startup was able to rise above its detractors to record some notable achievements such as closing various deals, appointing top talent to lead its operations, and expanding its operations across Africa and around the world, as well as partnerships, expansion, the launch of a graduate talent program, events, and some recognition for its role in the industry, all in line with its plans to develop more complementary products, accelerate customer acquisition, and expand its operations across Africa and around the world.
Flatterwave Expands into Tanzania
To follow through with its promise of expansion during its series D record funding, barely a month after the funding, Flutterwave announced on the 23rd of March 2022 that it has gotten approval from the Bank of Tanzania (BoT) to launch its service in the East African nation. Flutterwave said it will open offices in Dar es Salaam, the largest city and financial hub of Tanzania, to drive digital payments by enabling merchants and customers to trade through its platform.
According to reports, Flutterwave has the infrastructure in over 34 African nations, including Nigeria, Uganda, Kenya, and South Africa. Flutterwave also hopes that its products and services would assist Tanzanian SMEs in overcoming the hurdles posed by the country's extremely fragmented and complicated payment and banking infrastructure.
According to Statista, the transaction value of e-commerce in Tanzania is forecast to reach $907 million in 2022, with 14.2 million users expected by 2025. Tanzania was chosen for strategic reasons. Tanzania has the fourth-largest e-commerce customer base in Africa, with an estimated 1.5 million online shoppers according to the United Nations Conference on Trade and Development (UNCTAD).
Flatterwave Partners Cadana
Cadana, a salary on-demand startup expanded its operations into Nigeria following a strategic partnership with Flutterwave. Cadana, helps businesses delight their employees by providing modern payroll platforms that allow employees access to their earned salary on-demand, anytime, anywhere. Following this partnership, Flutterwave processes payments for employers and employees on Cadana.
Talents Addition to the Flutterwave Team
In June 2022, Flutterwave announced the appointment of Oneal Bhambani as its new Chief Financial Officer. Oneal joined the unicorn company from American Express and Kabbage, where he managed large-scale fintech businesses and helped lead the sale of Kabbage and its integration into the American Express Global Commercial Services segment.
Also, in July, Gurbhej Dhillon, the former Managing Director of Goldman Sachs, was appointed Chief Technology Officer (CTO) of Flutterwave to further develop its innovative technology platform, which currently supports integrations with key technology partners like VISA, Mastercard, Discover Card Networks, and customers like Uber, Flywire, Booking.com, etc. In addition, he will focus on improving the architecture and infrastructure and providing leadership, enabling other engineering and product leaders to create the best solutions that support customer business growth.
Additionally, Flutterwave also appointed Emmanuel Efenure last October as Head of Risk for Africa; a new unit bore from the Flutterwave Compliance Team — to see to "faster development and implementation of Risk initiatives."
Flutterwave Obtains Switching and Processing License from CBN
In yet another feat to position itself as a leading fintech brand on the continent, Fluterwave last September obtained a switching and processing license. Granted to the fintech by the Central Bank of Nigeria, the SP license has been said to be one of the most valuable processing licenses of the CBN.
With this license, Flutterwave can procure switching and card-processing transaction services for customers. Other advantages attached to the license include agency banking, non-bank acquiring, and payment gateway services. Carrying such features, through the SP, Flutterwave can now facilitate interbank transactions, including that of fintech and other institutions.
Flutterwave Adopts eNaira as Payment Option in Nigeria
In September 2022, Flutterwave announced the adoption of eNaira, Nigeria's digital currency as part of its payment option asides cards, bank transfers, Barter by Flutterwave, etc — for merchants.
The eNaira noted to be the first digital currency in Africa was launched on October 25 2021 as a legal tender by the Central Bank of Nigeria (CBN) to operate just like cash, its flat currency. Merchants using the Flutterwave app can accept eNaira payments by choosing to scan QR codes and generate one-time tokens or direct debit payments.
Also, in that same month, Flutterwave introduced Google Pay (GPay) as part of its payment options.
Flutterwave Hires 200 Graduates for 12 Months Trainee Programme
Flutterwave, in August, admitted about two hundred (200) Nigerian graduates into its graduate trainee program, in a bid to tackle unemployment in the nation. It was reported that this development is part of the company's mission to support the nation's economic status.
This program is designed to be a twelve months intensive training to provide the graduates with the needed skills needed to engage the world before them. Through the program, participants are promised exposure to Flutter's solutions, products, connections, and work culture. They will be given an environment for self-growth and career development.
The 200 graduates were carefully selected from a pool of about Eleven Thousand (11,000) applicants. The program, which opened in early July 2022, is meant to support Nigerian graduates
Flutterwave partners with Flytime Fest 2022 Multi-Day Festival
Flutterwave partnered with the Flytime Group to present the FLYTIME FEST 2022 for music fans and experience lovers across Nigeria and the world to a sensational experience on the 21st,22nd, and 24th of December at The Eko Convention Centre in Lagos.
Flutterwave Partnered with CeBIH for the 2022 Conference
Flutterwave partners with the Committee of e-Business Industry Heads (CeBIH) to host the Annual Conference of CeBIH for 2022, towards growing and securing the payments ecosystem in Nigeria. The conference which holds in Lagos on Friday, 2 December 2022, promises to chart the course for combating fraud in payments. This collaboration shows a renewed commitment by Flutterwave to support conversations that create a safe and secure digital payments ecosystem for all Nigerians.
Flutterwave Hosted its Trade Fair 3.0
Flutterwave on Sunday, 11th of December 2022, at Landmark Event Centre, VI, Lagos hosted over 1500 shoppers and 100 SMEs to the third edition of its trade fair, organized in partnership with Pages by Dami. The event reiterated its commitment to providing small businesses with solutions and initiatives to grow their business.
Flutterwave Bag Awards
The Nigerian Fintech Awards have singled out four institutions and ten individuals for special recognition to celebrate their contributions to the growth and development of the Nigerian fintech industry and among those so honored was the Flutterwave co-founder and CEO, Olugbenga Agboola. The other awardees were: Managing Director/Chief Executive Officer, Sterling Bank Plc, Abubakar Suleiman; the founder and Executive Vice Chairman, Computer Warehouse Group Plc, Austin Okere; the co-founder and CEO of Precise Financial Systems, Dr. Yele Okeremi; the founder of Future Africa, Iyinoluwa Aboyeji,  as well as the founder and Group CEO, Systemspecs Holdco, John Obaro. Others are the founder and CEO of SecureID, Mrs. Kofo Akinkungbe; the founder and Group CEO, of Interswitch Group, Mitchell Elegbe; Director, of Payments System Policy and Oversight at the Central Bank of Nigeria, Musa Jimoh; co-founder and the founder of Chams Plc, Ademola Aladekomo.
In the same vein, the Flutterwave CEO, Olugbenga Agboola was conferred with the national honor of Officer of the Order of the Niger (OON) by President Muhammadu Buhari,  in recognition of his contribution to fintech growth in Africa.
The payment company was also named the payment platform of the year The Gage Awards 2022 was held at the Eko events and Suites on Saturday the 11th of June 2022.