How East African Startups Snatches 64.6% of Africa's VCs Funding in May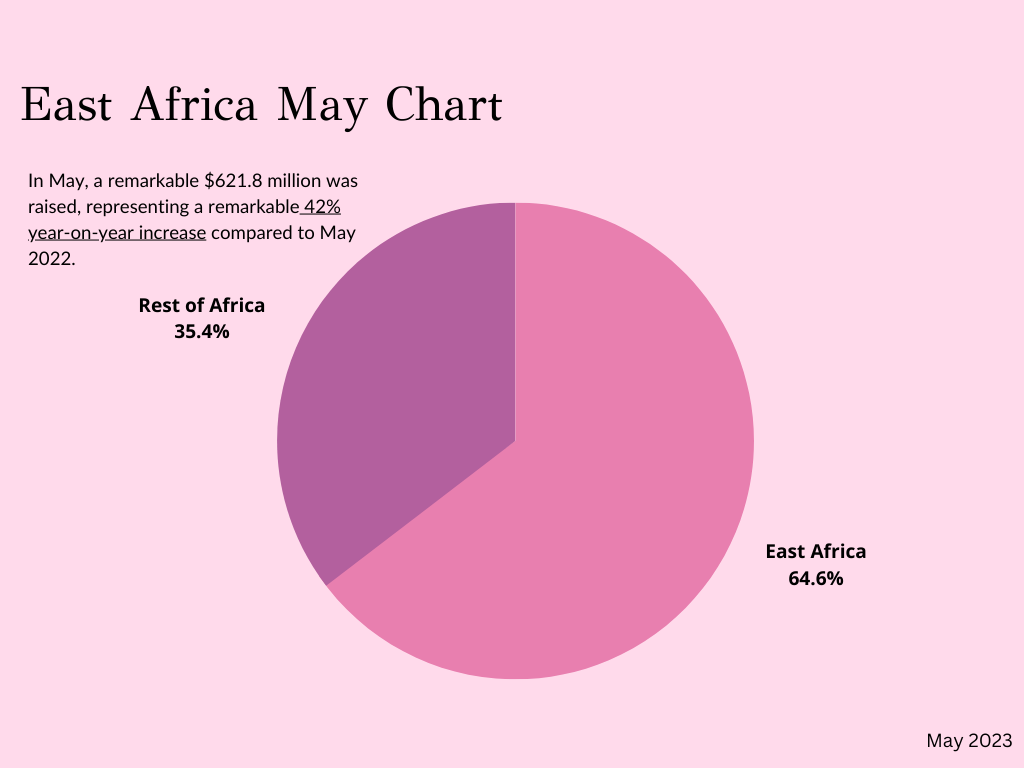 Over the past few years, East Africa has emerged as a formidable contender for the title of Africa's technology headquarters. With Nairobi, the capital of Kenya, often referred to as the African Silicon Valley, the region's tech ecosystem has been thriving. The numbers speak for themselves, as East African startups recently secured a staggering 64.6% of Africa's venture capital funding in May alone. This remarkable achievement solidifies the region's position as a leading player in Africa's tech revolution.
In 2022, East Africa secured the second-largest share of startup funding on the continent, raising a jaw-dropping $1.2 billion, which accounted for 26% of the total venture capital funding. This marked a remarkable growth of 115% compared to the previous year. Kenya, with its vibrant tech startup ecosystem, received a staggering 86% of the region's total funding in 2022, positioning it among the top four tech startup hubs in Africa. Impressively, besides Nigeria, Kenya was the only market to attract over $1 billion in funding during the same period.
Despite a dip in funding during Q1 2023, where startups raised 57.2% less than the previous year, East African startups showcased their resilience. In May, a remarkable $621.8 million was raised, representing a remarkable 42% year-on-year increase compared to May 2022. April 2023 witnessed a jaw-dropping 379% increase in funding, with a total of $129.8 million raised. The East African startups led the way, securing the majority of the funding at $414.7 million, accounting for an impressive 64.6% of the disclosed funding totals.
Notable Success Stories from East Africa in May
The success of East African startups in May was spearheaded by the fintech company, M-Kopa, which raised a staggering $250 million. Another notable achievement was Sun King's recent raise of $130 million. These remarkable figures indicate the confidence investors have in the region's tech startups. Several other startups also secured funding, such as Novfeed ($1 million), Amini ($2 million), Raise ($120,000), and Zofi Cash ($1 million), while Zydii and Elevate Hr announced undisclosed funding.
Also in May, Kenya, at the forefront of East Africa's tech revolution, made significant strides as the government launched a unified QR code system, enabling financial interoperability across the country. Known as the "KE-QR Code Standard 2023," this system allows all payment service providers regulated by the Central Bank of Kenya to process payments using QR codes. This move paves the way for seamless and efficient transactions, benefitting both consumers and businesses.
Furthermore, Safaricom, a major telecommunications company in Kenya, made headlines by acquiring M-Pesa Holdings from Vodafone for a mere $1. M-Pesa Holdings currently holds €1.2 billion ($1.3 billion) in customer funds, presenting Safaricom with an opportunity to invest in short-term securities. This acquisition is timely, as Safaricom recently obtained a $150 million license to operate mobile money services in Ethiopia. These strategic moves solidify Safaricom's position as a dominant player in the East African tech landscape.
Likewise, in the month under review, Kenya's courts showed their willingness to hold tech giants accountable, exemplified by a recent ruling against Meta's outsourcing partner, Sama. The Employment and Labour Relations Court ordered Sama to pay its employees, who were denied their salaries due to ongoing legal battles. This ruling emphasizes Kenya's commitment to protecting workers' rights in the digital age. In contrast, Bolt, a popular ride-hailing platform, appears to be taking its Kenyan drivers' concerns seriously by launching an engagement center in Nairobi, indicating a positive step toward resolving grievances.
Finally, joining the ranks of technologically advanced nations, Mozambique in East Africa successfully launched 5G in selected areas, including Maputo, Matola, Nampula, Beira, and Tete. This milestone enhances Mozambique's connectivity and sets the stage for digital innovation and economic growth.
East African startups have become a driving force in Africa's tech revolution, snatching a significant share of venture capital funding in May. With Kenya leading the way and other countries in the region rapidly advancing, East Africa's tech ecosystem shows no signs of slowing down. The impressive growth, strategic acquisitions, legal victories, and technological advancements are a testament to the region's ingenuity and determination. As East Africa continues to push boundaries and redefine the African tech landscape, the world eagerly awaits the next groundbreaking innovations to emerge from this thriving hub.