Not Bad or Horrible. What is your View of Africa's Q1 2023 Performance?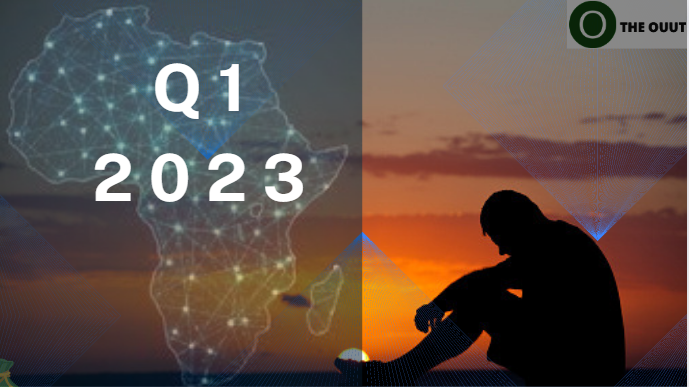 The Wahala Continues
Expectedly, this year began in similar fashion as Q4 2022. The inability of the global economy to handle financial and social inefficiencies has created a devastating wahala in the tech ecosystem. Before we continue, here is a cool definition of "wahala": an African word commonly used in Nigeria to express a state of worry, distress, problem, or trouble.
Russia's invasion of Ukraine in late February 2022 caused a global shock. The grave human implications fed through into markets, with equities declining and bond yields rising (meaning prices fell). Commodity prices soared given that Russia is a key producer of several important commodities, including oil, gas, and wheat. This contributed to a further surge in inflation as well as supply chain disruption. Elsewhere, Africa was enjoying the increased funding across tech sectors and went on to experience its highest Q1 raise last year.
However, the war in Ukraine and persistent inflationary pressures mean that investors have had to navigate tricky terrain, trading the investment lane cautiously. This led to several poor quarterly performances in Africa, and the myth of immunity died off. One year later, the region, along with the rest of the world, seems stuck with bad performances and Q1 2023 is not looking good.
How is your Q1 2023?
As we head toward the end of the first quarter, it's not entirely clear if we are experiencing a funding crisis or not. What is clear is that Q1 2023 funding has not been anything close to what we experienced in Q1 2022. As aJanuary 2022, more than 85 startups across Africa had raised over $475 million in funding. In the same month this year, $70 million was raised across 24 funding rounds, representing an over 85% decline in funding rate.
In February, there was a significant improvement, as 44 startups raised more than $675 million in 48 funding rounds. While the sum was a slight increase over the 2022 figure, it is noteworthy that MNT-Halan's $400 million raise accounted for 59% of the total February raise in Africa. The positive here is that MNT-Halan became Africa's first unicorn in 14 months.
How good was your Q1 2023?
Imagine what the SVB stood for in the global tech space. Now it is gone, and we still have to deal with its collapse in Africa. Days later, there were several announcements from global tech companies of impending layoffs. While it is unclear if they've been heavily affected by the SVB's collapse, it is fair to say that in the tech ecosystem, everything is connected.
A Quick Checkup on African Startups, as Tech Layoffs in 2023 Hits 50% of 2022 Total
Particularly in Africa, Chipper Cash, an African cross-border payments platform, announced a second round of layoffs. This came less than three months after the company had cut approximately 12.5% of its workforce.
The cherry on the cake was Zumi's announcement of a permanent shutdown. The B2B e-commerce business had announced that the decision was due to an inability to secure the necessary finance to sustain its operations.
African startups are faced with difficulties in sustaining their operations and remaining competitive in a highly dynamic and fast-paced business environment. The situation has gotten worse because of the economic downturn brought on by the Russian-Ukrainian conflict.
Can we Panic Now?
US stocks have declined as Russia's invasion of Ukraine drew widespread condemnation and elicited a range of strict sanctions from the US and its allies. President Biden had banned Russian oil imports as he targeted "the main artery of Russia's economy". The concerns over inflation pressures, particularly through food and energy have been amplified, and real economic parameters are being put to test.
Some of Russia's wealthiest people have also been hit with asset freezes and seizures, while a slew of major international corporations have withdrawn from the country. Numerous other sanctions have been instated.
According to Shroders, Europe's shares have fallen shapely. This is as a result of the region's close economic ties with Ukraine and Russia, particularly when it comes to reliance on Russian oil and gas. In response to rising inflation, the European Central Bank (ECB) outlined plans to end bond purchases by the end of September. ECB President Christine Lagarde indicated that a first interest rate rise. It currently stands at 9.9%.
While emerging markets like Africa's have often offered new investment opportunities, their elevated economic growth rates offer higher expected returns—not to mention the benefits of diversification, the current financial struggles does not afford VCs the ability to comfortably fund African startups.
African record breaking funding in 2022 had been buoyed by the region's impressive performance in the first periods of the year. Given the early poor performance, they may not be so fortunate this year.